Huawei has released its Mate 40 smartphones, claiming that they have a more "sophisticated" processor than Apple's upcoming iPhone. According to a report by BBC.
The component is made using the same "five-nanometer" process as its US rival chip, but it also contains billions of transistors.
As a result, the Chinese company claims that its mobile phones are more powerful.
However, due to the US trade ban that took effect in September, Huawei's chip supply has been cut off.
This means that once its new Kirin 9000 processor inventory runs out, it will face the problem of not being able to produce more Mate 40 phones in its current form.
At present, only Taiwan's TSMC and South Korea's Samsung have the expertise and equipment to manufacture 5nm chips, and they are prohibited from providing them or any other semiconductor products involving "US technology and software" to Huawei.
The United States said the move was out of national security considerations, but Huawei denied that it constituted a threat.
The BBC asked how many chips Huawei had purchased, but declined to answer.
However, in an online demonstration, Richard Yu, the company's head of consumer equipment business, admitted that the ban "makes us extremely difficult."
Huawei is also facing other earlier restrictions imposed by Washington, which prevent any device launched since mid-2019 from being able to access certain Google services, including the Play Store.
Nevertheless, Huawei is still the world's third largest smartphone manufacturer and the market leader in its home country.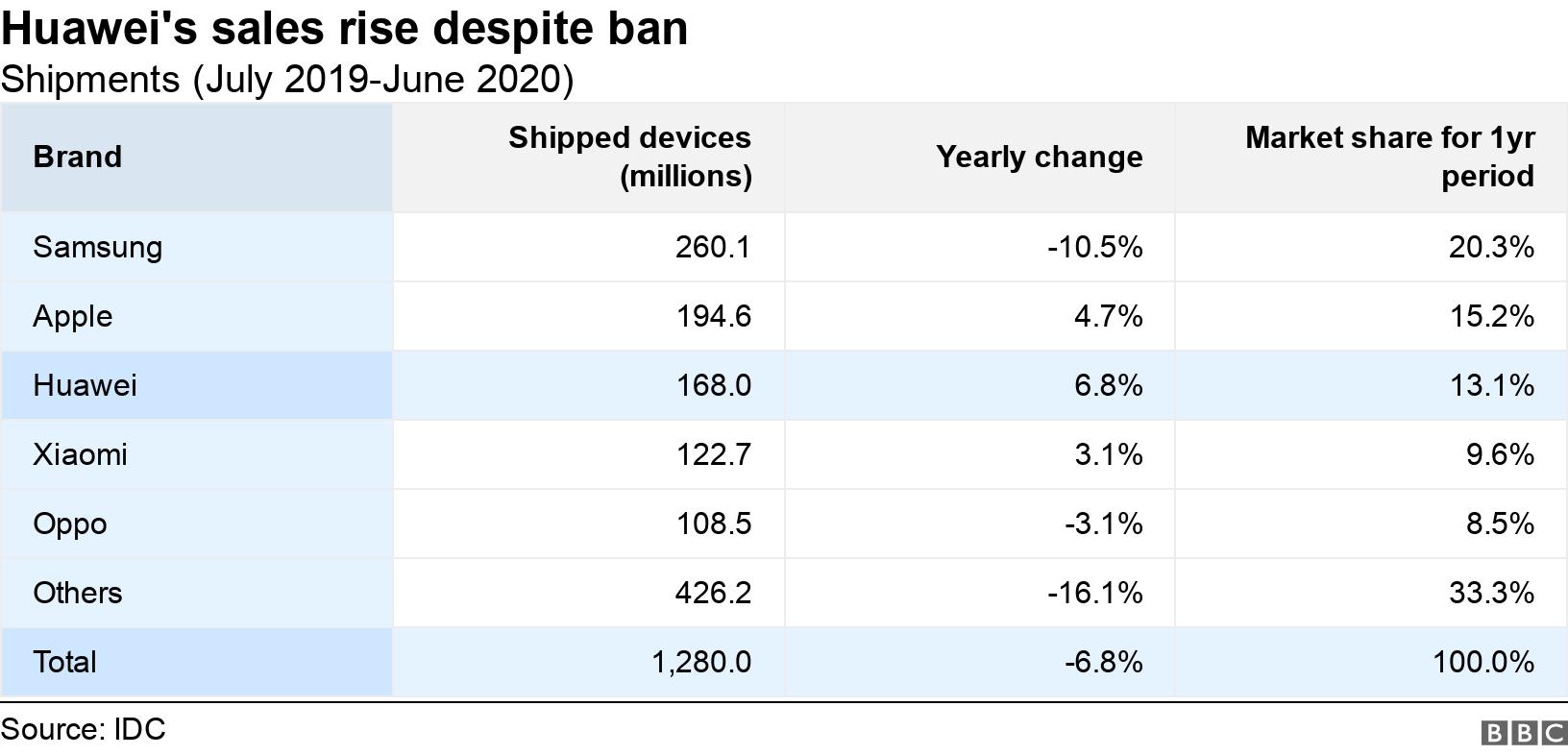 Mo Jia, an analyst at Canalys, a technology research company, said: "In China, Huawei has an amazing brand awareness in the high-end segment."
"Demand for the Mate 40 series is expected to be strong there, but despite this, under US sanctions, component restrictions may limit the total amount of new Kirin-powered smartphones that Huawei can produce."
Smooth screen
The price of the basic Mate 40 model is 899 euros ($1,049; £800)-has a 6.5-inch (16.5 cm) OLED display. Three more expensive versions with 6.8-inch OLED screens (prices up to 2,295 euros). However, the price is still unknown in Malaysia.
In each case, the screen provides a 90Hz refresh rate-equivalent to 90 frames per second-higher than Apple's latest iPhone, but lower than Samsung's S20 series.
Mr. Yu suggested that this can strike the best balance between smoothness and battery life.
One of the main ways to distinguish different models by camera:
The basic Mate 40 has a selfie camera and three rear cameras (wide angle, ultra wide angle and telephoto)
Mate 40 Pro adds a new 3D face unlock sensor, and improves the specifications of the rear super wide-angle and telephoto cameras
Mate 40 Pro+ adds a fourth rear "super zoom" camera and a fifth depth-sensing camera to improve shallow focus shooting
Porsche Design Mate 40 RS introduces an infrared thermometer, which allows the device to check the local temperature
Currently, the company only plans to sell Pro models outside of China, priced at 1,100 pounds.
One of the innovations introduced in detail is the "free-form lens" used on each model for ultra-wide-angle cameras. Huawei said it solved the problem of image distortion.
The company added that the optional "eye on device" feature (which turns on the screen only when it is detected to be viewed) will reduce the phone's power consumption.
Missing app
Huawei said that the Kirin 9000 chip includes an integrated 5G modem. It is allowing it to extend battery life beyond its competitors.
A slide shown at the press conference claimed that the single charge time of the Mate 40 Pro was about 25% longer than that of Samsung's Note 20 Ultra+, although the latter had a larger battery.
Huawei said it also uses additional processing power to take slow-motion photos from two cameras at 240 frames per second.
The company also touts that the chip allows its devices to provide a "professional gaming" experience. Thanks to its ability to provide graphics with better details and lighting effects.
However, due to the inability to access some of Google's technologies, certain games including "Call of Duty Mobile" cannot be used on these devices, while other games can run but cannot make in-app payments.
Even if most Android apps do not appear in Huawei's own app store. But they can install through the Petal search tool.
However, there are exceptions.
Many banking apps, eBay and the UK's Tesco Groceries app will not install. But, instead provide users with an icon to launch their website. Although Huawei said it will launch soon, but the Sky News application is not available.
Huawei Petal Search
A spokesperson told the BBC:
"Clearly politics has brought about a situation where Huawei is now working hard to become non-reliant upon Google to offer consumers an alternative."
"Surely what Huawei is doing with its App Gallery – albeit a work in progress – deserves praise."
If an application is not available, users can add it to the "wish list". Huawei says it will inform developers if there is a strong demand.
But an expert questions whether most consumers would be satisfied with the current arrangements.
Ben Wood of CCS Insight said:
"The new chip is impressive and the circular camera design on the rear distinctive, but despite Huawei's best efforts to build up its App Gallery, there are still significant gaps."
"Even with the Petal search capability, you still have this challenge that you have to find the applications and then side-load them onto the device. That's all very well for tech-savvy, committed Huawei enthusiasts, but for the mass market, it's a pretty big barrier to put in people's way."
More Information about: